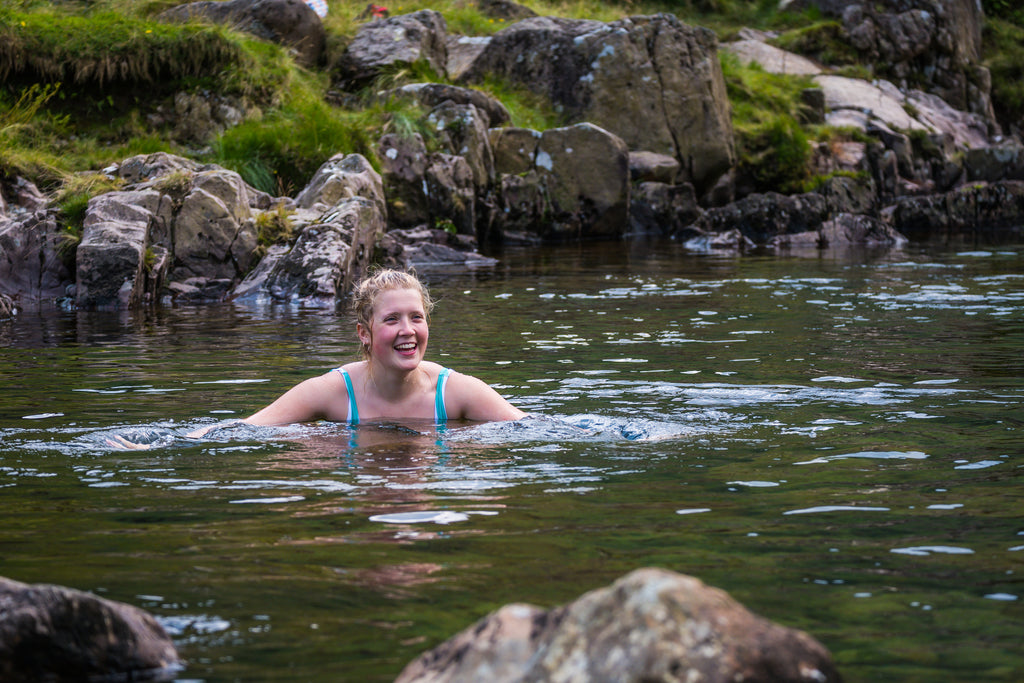 Wholegevity
Wild Swim & Trek
£75.00
About the Experience
Embark on our renowned 90-minute Strength Trek, immersing yourself in the breathtaking landscapes of Ilkley Moor and its surrounding moorland. Traversing the trails, each participant is equipped with a carefully chosen weighted pack tailored to their current fitness level.
As we descend towards the tranquil River Wharfe, the next chapter of our morning unfolds—an exhilarating wild swim led by our expert guides. Feel reassured as we create a safe and supportive environment, ensuring your confidence in entering the water. Whether you're a beginner or a seasoned swimmer, this experience caters to all levels, making it an ideal introduction to open water swimming.
The fusion of these two activities provides an array of incredible benefits. The Strength Trek enhances your physical strength and cardiovascular health, while the invigorating cold water immersion promotes a resilient immune system and triggers the release of rejuvenating hormones.
To conclude this unforgettable morning, we invite you to gather with fellow adventurers over steaming hot drinks and indulge in delectable homemade cakes. Share your triumphs and forge new connections in the warmth of our post-adventure gathering.
Join us for this extraordinary outdoor experience that will leave you refreshed, energized, and connected to both nature and like-minded individuals.
Click
Here
for Q&A on Strength Trekking.
Your hosts
Nick
As an experienced personal trainer in Ilkley, Nick has dedicated over twenty years to guiding clients of all backgrounds, including elite athletes and individuals with long-term illnesses. With a strong belief in the rejuvenating power of nature, Nick's unique approach focuses on reconnecting the body and mind through land and water activities. He is passionate about using active movement to facilitate physical and emotional transformations, employing highly effective training methods. In addition to being a qualified personal trainer, Nick is also a certified STA Level 2 open water swimming coach and holds outdoor emergency first aid certification.

Les
Les is an experienced wild swimmer and a wild swimming guide and has introduced many people to the joys and many benefits of cold water, in the Yorkshire Dales and Lake District.  He is passionate about helping others access this wonderful hobby in a friendly & fun way, safely. He holds a Royal Life Saving Society qualification and is up to date with outdoors emergency first aid and is fully insured.  If it's your first time trying out the cold water, Les can help safely introduce you.  If you are an experienced swimmer, he can guide you to some of the best river and waterfall spots the Yorkshire Dales has to offer.
This activity is open only to those who are confident in the water , non swimmers can
contact Nick
for private coaching if required.
A Typical Schedule 
9.00-9.30. Meet at location for a quick brief and Q&A
9.30. Strength Trek around Ilkley Moor
11.30. Reconvene at swim spot. Location - 
11.45. Introduction to open water swimming plus dip
12.45. Warm up with hot drinks plus homemade cakes
1.30. Depart
The Details
Please get in touch if you have any questions about the experience.
You can find details of what to bring on the day here.
Locations and final details will be confirmed after booking. 
Once you have booked, please complete this waiver form.